News
The Case for Not Wearing a Bike Helmet
Helmets have been mandatory in the pro peloton for well over a decade. Where's the data that it's helping?
read more ...
Bicycle Network campaigns for helmet law reform
Australia's Bicycle Network has come out in favour of reforming Australia's mandatory bicycle helmet law.
read more ...
Cycling Tips: Commentary
Commentary: Why I stopped wearing a bike helmet by Peter Flax
read more ...
Bicycling Magazine
It's Okay If You Don't Wear a Bike Helmet
read more ...
Carlton Reid, transport writer
I Do Not Wear A Bicycle Helmet
read more ...
More on Why We Shouldn't Have Mandatory Helmet Laws
Over on VOX, Joseph Stromberg rounds up the studies about bike helmets and concludes that if you want to get more people to ride bikes, then you shoul
read more ...
Give Kids Bikes, Not Helmets
Why helmet giveaways are an act of surrender
read more ...
Enough with the Smashed Watermelons! Helmet Mania Is Scaring Kids Away from Biking
Free Range Kids
read more ...
News
US DoT restores unhelmeted European images
The US Public Roads has backed down after doctoring photos of European cyclists in a report to show them wearing helmets when they were not.
Following complaints, images of cyclists in Berlin and Copenhagen have been restored to bare-headed and the DoT has added this wording to the on-line version of the report:
Correction: Public Roads originally added helmets to two of the photographs in this article, "Handy Lessons From Overseas on Walking and Bicycling," (pages 29 and 32 on the printed version) to conform with U.S. bicycle safety practices. However, European practice is to focus on increasing safety by encouraging greater numbers of bicyclists through bicycle-friendly policies rather than focusing on helmet use. Public Roads regrets the photo alterations and has restored the original photos to this online version of the article.
Note: The on-line report has since either been moved or withdrawn, but one of the doctored images is shown below - look, no helmet straps!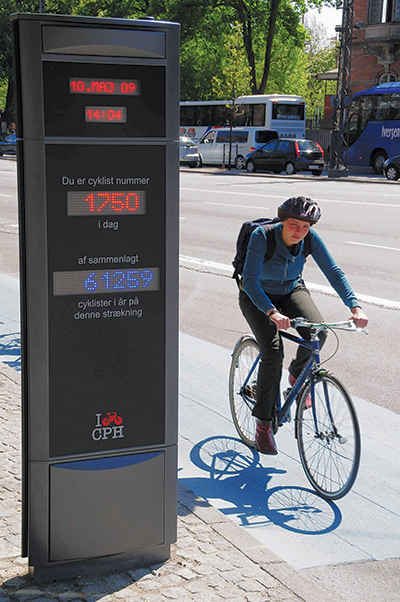 Sun 28 Feb 2010