News
Bicycle Network campaigns for helmet law reform
Australia's Bicycle Network has come out in favour of reforming Australia's mandatory bicycle helmet law.
read more ...
Helmets not in Top 10 of things to keep cycling safe - Boardman
British Cycling's policy advisor and champion cyclist Chris Boardman says it&rsquo
read more ...
Angela Merkel speaks out against helmet laws
Opening Germany's annual cycling showcase Eurobike, Chancellor Angela Merkel told
read more ...
Government agencies drop 85% helmet benefit claim
US federal agencies The National Highway Traffic Safety Administration (NHTSA) an
read more ...
No-one knows if a helmet will reduce the risk of getting hurt
A long article in the June 2013 edition of Bicycling Magazine says that current bi
read more ...
Minimal impact of helmet laws on head injuries
According to a study published in the British Medical Journal, helmet legislation
read more ...
Helmet laws discourage the safest cyclists
Researchers in Norway have looked into possible reasons why there is no good evide
read more ...
Australian cycling boom a myth
According to the University of Sydney, claims that cycle use in Australia has rec
read more ...
News
US DoT restores unhelmeted European images
The US Public Roads has backed down after doctoring photos of European cyclists in a report to show them wearing helmets when they were not.
Following complaints, images of cyclists in Berlin and Copenhagen have been restored to bare-headed and the DoT has added this wording to the on-line version of the report:
Correction: Public Roads originally added helmets to two of the photographs in this article, "Handy Lessons From Overseas on Walking and Bicycling," (pages 29 and 32 on the printed version) to conform with U.S. bicycle safety practices. However, European practice is to focus on increasing safety by encouraging greater numbers of bicyclists through bicycle-friendly policies rather than focusing on helmet use. Public Roads regrets the photo alterations and has restored the original photos to this online version of the article.
Note: The on-line report has since either been moved or withdrawn, but one of the doctored images is shown below - look, no helmet straps!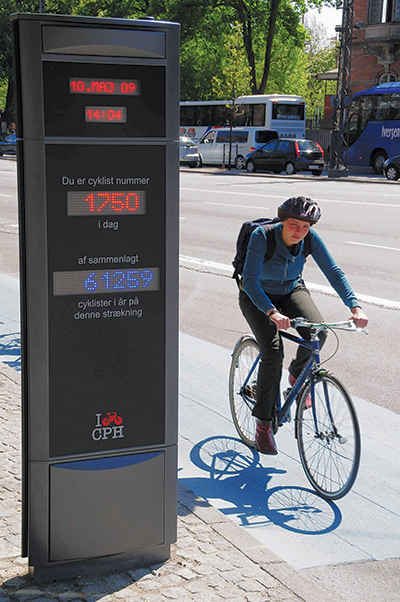 Sun 28 Feb 2010