News
The Case for Not Wearing a Bike Helmet
Helmets have been mandatory in the pro peloton for well over a decade. Where's the data that it's helping?
read more ...
Bicycle Network campaigns for helmet law reform
Australia's Bicycle Network has come out in favour of reforming Australia's mandatory bicycle helmet law.
read more ...
Cycling Tips: Commentary
Commentary: Why I stopped wearing a bike helmet by Peter Flax
read more ...
Bicycling Magazine
It's Okay If You Don't Wear a Bike Helmet
read more ...
Carlton Reid, transport writer
I Do Not Wear A Bicycle Helmet
read more ...
More on Why We Shouldn't Have Mandatory Helmet Laws
Over on VOX, Joseph Stromberg rounds up the studies about bike helmets and concludes that if you want to get more people to ride bikes, then you shoul
read more ...
Give Kids Bikes, Not Helmets
Why helmet giveaways are an act of surrender
read more ...
Enough with the Smashed Watermelons! Helmet Mania Is Scaring Kids Away from Biking
Free Range Kids
read more ...
News
Fold-up helmet to save Melbourne bikes?
In a bid to save Melbourne's troubled bike share scheme, the state government is considering providing collapsible helmets that could fold up and be carried in a briefcase or handbag.
The scheme's operator, RACV, will also hand out free conventional bike helmets next month and VicRoads has confirmed it is working with RACV on a range of other helmet options, including the collapsible variety.
Figures obtained by The Sunday Age show that usage of the new scheme - introduced late May - remains low and declined last month.
The Sunday Age has been told an Australian company has approached VicRoads with a collapsible helmet product. VicRoads, which declined to provide further details, may run a tender for the provision of collapsible helmets, depending on whether Australian safety standards can be met. French company DOYOUvelo? also has a prototype collapsible helmet that folds flat.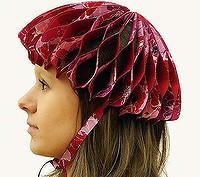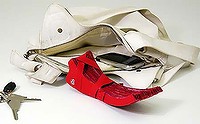 The Australian and French products
Sun 29 Aug 2010
See also