News
Bicycle Network campaigns for helmet law reform
Australia's Bicycle Network has come out in favour of reforming Australia's mandatory bicycle helmet law.
read more ...
Helmets not in Top 10 of things to keep cycling safe - Boardman
British Cycling's policy advisor and champion cyclist Chris Boardman says it&rsquo
read more ...
Angela Merkel speaks out against helmet laws
Opening Germany's annual cycling showcase Eurobike, Chancellor Angela Merkel told
read more ...
Government agencies drop 85% helmet benefit claim
US federal agencies The National Highway Traffic Safety Administration (NHTSA) an
read more ...
No-one knows if a helmet will reduce the risk of getting hurt
A long article in the June 2013 edition of Bicycling Magazine says that current bi
read more ...
Minimal impact of helmet laws on head injuries
According to a study published in the British Medical Journal, helmet legislation
read more ...
Helmet laws discourage the safest cyclists
Researchers in Norway have looked into possible reasons why there is no good evide
read more ...
Australian cycling boom a myth
According to the University of Sydney, claims that cycle use in Australia has rec
read more ...
News
Fold-up helmet to save Melbourne bikes?
In a bid to save Melbourne's troubled bike share scheme, the state government is considering providing collapsible helmets that could fold up and be carried in a briefcase or handbag.
The scheme's operator, RACV, will also hand out free conventional bike helmets next month and VicRoads has confirmed it is working with RACV on a range of other helmet options, including the collapsible variety.
Figures obtained by The Sunday Age show that usage of the new scheme - introduced late May - remains low and declined last month.
The Sunday Age has been told an Australian company has approached VicRoads with a collapsible helmet product. VicRoads, which declined to provide further details, may run a tender for the provision of collapsible helmets, depending on whether Australian safety standards can be met. French company DOYOUvelo? also has a prototype collapsible helmet that folds flat.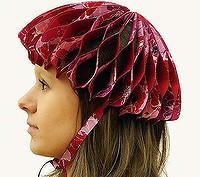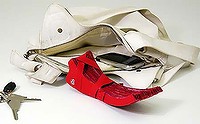 The Australian and French products
Sun 29 Aug 2010
See also