News
Bicycle Network campaigns for helmet law reform
Australia's Bicycle Network has come out in favour of reforming Australia's mandatory bicycle helmet law.
read more ...
Helmets not in Top 10 of things to keep cycling safe - Boardman
British Cycling's policy advisor and champion cyclist Chris Boardman says it&rsquo
read more ...
Angela Merkel speaks out against helmet laws
Opening Germany's annual cycling showcase Eurobike, Chancellor Angela Merkel told
read more ...
Government agencies drop 85% helmet benefit claim
US federal agencies The National Highway Traffic Safety Administration (NHTSA) an
read more ...
No-one knows if a helmet will reduce the risk of getting hurt
A long article in the June 2013 edition of Bicycling Magazine says that current bi
read more ...
Minimal impact of helmet laws on head injuries
According to a study published in the British Medical Journal, helmet legislation
read more ...
Helmet laws discourage the safest cyclists
Researchers in Norway have looked into possible reasons why there is no good evide
read more ...
Australian cycling boom a myth
According to the University of Sydney, claims that cycle use in Australia has rec
read more ...
News
Only 7 minor injuries in over 1 million hire journeys
Transport for London announces that since the London bike hire scheme began, there have been over 1 million journeys on the bikes but only 7 minor injuries. 2 of the injured cyclists were given a head scan as a precaution, but no head injury was found.
94,500 people have registered to use the 'Boris Bikes' (named after London mayor Boris Johnson who has pushed implementation of the scheme) and there are 340 docking stations across central London.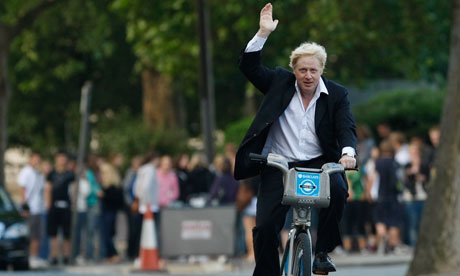 Boris Johnson launched the London project
Wed 13 Oct 2010
See also